Connected, versatile and immersive cockpit
The onboard journey will become an extension of today's connected lifestyles as people shift seamlessly between driving, working, relaxing, and socializing. During the 2020 CES Las Vegas, Faurecia has showcased a redesigned interior of a Ford-150, America's best-selling vehicle, exploiting our full technology portfolio and integration expertise. It shows how scalable and upgradable solutions enable automakers and mobility providers to customize individual comfort, enrich onboard experiences as well as improve safety and user interactions.
Digital services for connected lives
As in-car connectivity increases, vehicles will become a digital enabler for everything we want to do online. Faurecia and Microsoft have combined their expertise in edge-computing, artificial intelligence, cloud-based services, and cockpit integration to enable occupants to stay connected, productive, and entertained while in the car. Together, we developed services that improve comfort, wellness, and infotainment, bringing digital continuity from home or the office to the car through access to content on demand or collaborative working platforms. A cloud-connected cockpit gives automakers, mobility providers and consumers the ability to upgrade their travelling environment, for example by enhancing sound, personalizing entertainment options or in-cabin services.
A multi-sensorial experience to enhance wellness
Faurecia and its strategic partner MAHLE have worked together to integrate and connect different interiors and seating features to enhance the onboard experience.
The focus has been creating an individual thermal and comfort bubble that leaves a passenger feeling better at the end of their journey.
The vehicle monitors real-time data collected either from onboard cameras or wearable devices that measure skin temperature, heart or respiration rates, and blood pressure to guide the adjustments of air distribution or heat settings during the journey. If it detects stress, fatigue, or motion sickness, the vehicle will offer multi-sensorial experiences to relax or refresh occupants.
Over time, artificial intelligence and contextual analysis enable the vehicle to anticipate user preferences.
Finding ways to bring thermal comfort closer to individuals and ensure they feel comfortable more quickly also saves energy and improves vehicle efficiency.  Faurecia and MAHLE have designed our solution so that climate control settings target specific body areas rather than the whole cabin. Radiant panels are integrated into the seat, instrument panel, console, and door panels to provide a more energy efficient way to regulate individual temperature.
App store solutions
Faurecia and Aptoide, one of the largest independent Android app stores, have created a joint venture to develop and operate Android app store solutions for the global automotive market. We offer OEMs an affordable and secure automotive apps market, available worldwide with adaptable content per region.
The Aptoide app store offers one million Android apps covering a variety of use cases such as gaming, navigation, content streaming services, point of interest recommendations or parking.
Aptoide also offers an integrated secure payment mechanism supporting OEM strategies for service monetization, whilst securing the vehicle and occupants' data privacy.
Highly customizable advanced display solutions
Electronic displays are growing in both size and complexity, incorporating curves, complex shapes and automatic display adjustment technologies.
Faurecia aims to give automakers the freedom to customize vehicle interiors and offer personalized experiences to all vehicle occupants.
With a focus on ergonomic, safety and aesthetics, we integrate a variety of features across displays and surfaces such as tactile interfaces, haptic interactivity and 3D shaped surface displays. Customers benefit from our core competences in electronics, cockpit architecture, display technologies and integration to deliver high-resolution images and interactive surfaces.
A software platform to optimize the user experience of display systems
IRYStec, a Canadian startup acquired by Faurecia in 2020, is the world's first software platform that uses perception and physiology to optimize the user experience of display systems.
This full software solution enables the personalization of the display according to the driver's vision and the ambient light giving a safer and more comfortable user experience at a lower cost. This technology, which is adaptable to all types and sizes of display, gives up to 30% better perceived brightness and contrast as well as up to 30% energy efficiency savings and reduced thermal heating.
Integrated Safety for all occupants
To ensure that passengers are safe in all seated positions, safety features such as airbags or the seatbelt are integrated directly into the seat.
This technology called the Advanced Versatile Structure (AVS) allows occupants to drive, relax and work safely and efficiently. Smart kinematics effortlessly recline, lift, adjust and swivel the seat, and then return it smoothly and quickly back to the upright or driving position.
ZF and Faurecia cooperate in a strategic partnership to develop innovative safety and interior solutions linked to different potential occupant positions.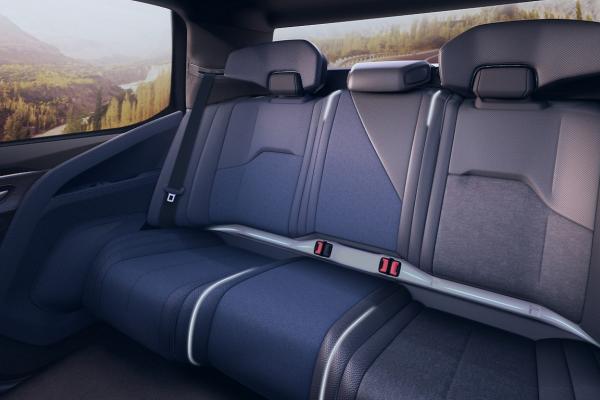 Smart, smooth & safe actuation for enhanced safety
Faurecia's smart actuation technologies are fully integrated into the cockpit systems that provide comfort, connected services, and safety features.
These cover a variety of use cases and needs and are compliant with integrated seatbelt systems and levels 3 and 4 autonomous vehicle requirements, including takeover control and back to drive.
The enhanced performance and perceived quality for vehicle occupants are based on the smooth stop and start and noise reduction capabilities, as well as accurate occupant position detection and compatibility with low H points.